Inverness CT 2-1 Arbroath - Report
---
25 years on
On our 25th Anniversary game and a moment to remember the legend that set us on our way, Alan Hercher, many fans were left wondering if those that started it all would have been out of place on a day where the occasion was greater than the game.
Inverness fumbled their way to three points thanks to a Miles Storey thunderbolt not dealt with by Arbroath keeper Darren Jamieson with around ten minutes left. It all started well for the Smokies as they took the lead in the 25th minute. A Jason Thomson cross found it's way to Bobby Linn standing all on his own at the far side of the box. He was given ample time to control the ball, tee it up and drive it into the net without being pestered by a defender. Shoddy from Inverness but Linn didn't care. We levelled the game just on half time when James Keatings threaded a great ball into the box and Aaron Doran ran onto it and slid the ball neatly home. 
~~~~~~~~~~~~~~~~~~~~~~~~~
John Robertson sprung a couple of surprises before kick off. Jordan White retained his place as main striker and Shaun Rooney started at right back after a lengthy lay off through injury in pre-season. Charlie Trafford was benched (huff) with James Vincent starting. 
Dick Campbell was without Gavin Swankie but danger man Steven Dorris started, however his day only lasted quarter of an hour.
Almost 2300 fans welcomed the sides onto the park and with some original legends looking on, there was a rousing minutes applause to remember the legendary Alan Hercher who scored that memorable hat-trick in our opening League game 25 years ago against Arbroath.
~~~~~~~~~~~~~~~~~~~~~~~~~
Speaking on BBC Sport
Inverness CT manager John Robertson: "There was a lot of distractions this week with everything going on - the 25th anniversary, fact it was Arbroath and the launch of the Alan Hercher Enclosure and our tribute to our first ever captain today.
"I thought we started well. We lost a goal and it rocked us a bit but then we got a really good equaliser and we kept pressing and pressing and pressing and eventually got the goal."
Arbroath manager Dick Campbell: "We are winning 1-0 and we end up losing 2-1 and the second goal is a mistake by the keeper - you would expect him any time to stop that shot.
"I've no complaints about the way we are going about our jobs. We've seen in these first two games that we really have to work hard. But the harder you work the luckier you get."
~~~~~~~~~~~~~~~~~~~~~~~~~
The newly surfaced pitch looked in great condition considering the downpours in recent days and Arbroath were first to have a go but Mark Whatley's free kick went wide with Ridgers watching it closely.
Aaron Doran responded at the other end but he shot tamely straight at the keeper and had a second effort stopped in similar fashion minutes later.
Bobby Linn was proving to be the visitors best option and with Rooney getting little help from Walsh, he stood off him and that gave Linn the space to probe his way into the box and he saw one effort go over and Mark Ridgers save his second attempt.
White headed wide and soon after Dorris was replaced by Michael McKenna, the striker unable to continue after picking up a knock.
Inverness started to take control of the game at this point but we passed up on some great opportunities to open the scoring. Carson, Doran, Walsh and Keatings all having goes. The most audacious effort came from Keatings as he connected well with an overhead kick but Jamieson reacted well to save.
Shortly after Jordan White headed tamely at Jamieson, Arbroath took the lead. A deep cross found Linn once more in space and he steadied himself before rifling a powerful shot through the keeper and into the net. Two minutes later he was given more space than the fans in the North Stand would have liked him to have but Ridgers saved his effort.
However, Inverness worked their way back into the game and just on half time a brilliant ball from James Keatings saw Doran run through the middle to guide the ball home.
Half Time 1-1
The second half had barely started when Arbroath almost snatched a second goal but a ball into the box was missed by defenders and forwards alike and the chance was gone.
A swift break forward down the right saw Walsh cut a low ball into the path of Doran but his first time shot was somewhat strangled and Jamieson smothered the ball. One of the few incisive breaks forward amongst our mostly casual and pedestrian approach.
Jamie McCart headed wide as the pressure mounted on the visiting defence and we would inflict more problems for them when Miles Storey replaced White on the hour.
He showed some good pace when he sprinted down the left side on a surge but the move petered out after an Arbroath defender bounced of Storey as he flexed his muscles. Powerful stuff and it would pay off with just under ten minutes to go.
Storey got his reward after a thumping shot caught out the keeper, the sheer power of it deceiving him. Maybe he should have been able to keep it out, however, I'll give Miles the benefit of the doubt as he unleashed his shot from around the same area that Linn scored from after Tom Walsh picked up a loose ball and drove across the face of the box before feeding on to Storey.
We looked to get a third but some staunch defending kept us at bay and in time added on Mark Ridgers had to be alert to ensure we never turned a win into a draw after he saved a Luke Donnelly shot from close range low down near the post.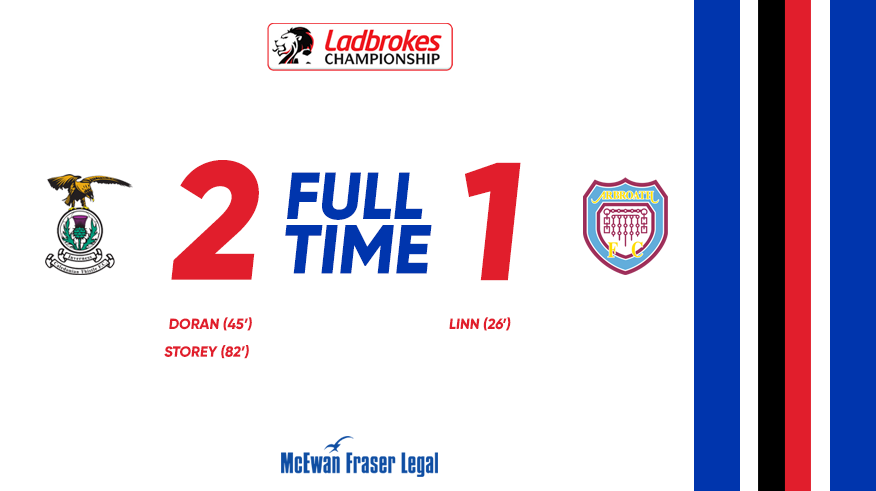 So, not the classic we saw 25 years ago, but a welcome three points against a well organised Arbroath side who despite having Dorris replaced still caused problems for our disheveled defence with Bobby Linn their star man. Difficult to pick any standouts for Inverness but David Carson put in a good shift and did lots of tidying up so he get's my nod for best on the park. Miles Storey did well when he came on, his bustling style causing problems for the defenders and well done to Mark Ridgers for staying alert right to the final whistle.
The real Man of the Match was Alan Hercher.

Footage from Caley Jags TV
Here's Robbo.........
And he's Miles better now............
---
a
Edited by tm4tj
---