CZECH MATES
Just over a thousand fans at the Caledonian Stadium were shown how to make a noise for the Caley Thistle boys by our Czech mates as they watched Inverness knock Morton out of the Chocolate Cup by 3-1. They certainly showed the locals how to generate some nose and they seemed to be enjoying themselves. Cheers for the visit and I'm glad we could get some goals for you.
Dekuji přátelé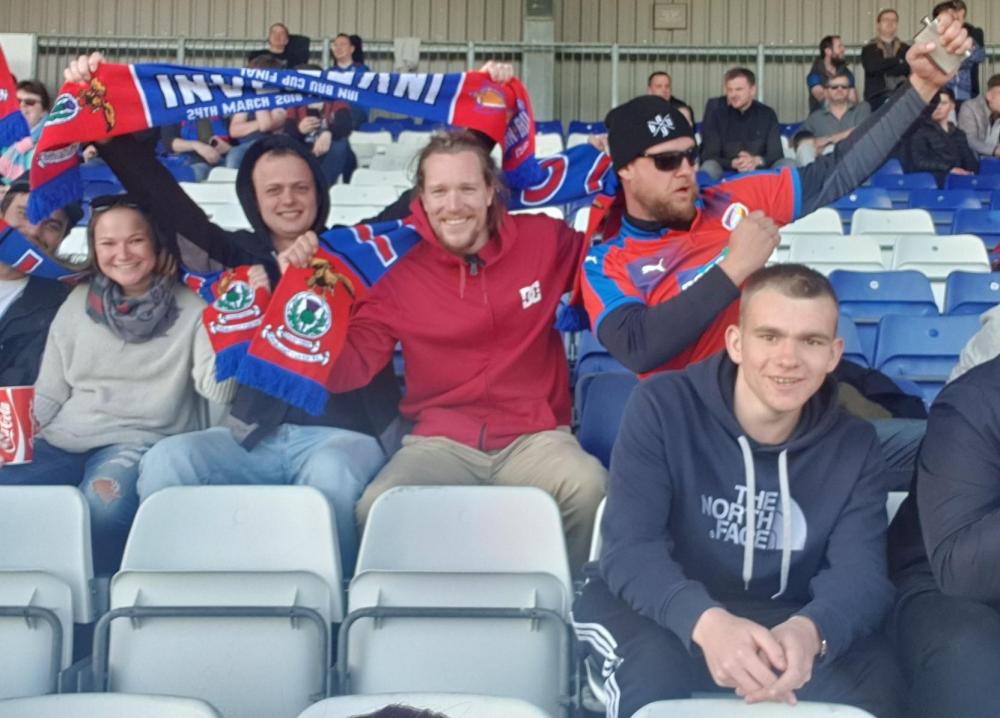 Inverness made eight changes to the starting line-up from the team that beat Morton 5-0 the week before in the Championship. With Barry and Scott in charge the fringe players got their chance to show their talent. One of those made his mark with a stunning curler into the top corner in the 25th minute as Nikolay Todorov put Inverness ahead. Aaron Doran added a second goal six minutes later and Miles Storey benefited from every keepers nightmare as his shot from a very tight angle went through his legs into the net. I don't know about Ramsbottom, but he certainly made a horses arse of trying to stop the ball! We were afforded the luxury of a missed penalty when keeper Ramsbottom atoned for his earlier blooper by making a brilliant save to deny Toddy a second goal. Trafford had won the penalty after being brought down by McLean, but Toddy grabbed the ball. Morton got a late consolation but in all honesty were outplayed on the day and can have no complaints at the scoreline.
To add to the starting paragraphs, despite the massive changes made by both sides, Inverness looked slick on the immaculate surface at the Caledonian Stadium. The pitch has never looked better for many a year after this summers upgrade and re-lay. Morton on the other hand seemed intent on not losing a goal. Some of our interplay was a joy to behold given that many have not been involved in the first XI most weeks. 
Morton's keeper looked nervy early on flapping at crosses and with a bit of fortune we could have been three or four up at the interval. Todorov took his goal well, a superb curler from just inside the angle of the box across the top of the keeper. Doran took advantage of the ball bouncing in front of the defender and ran in behind to slip the ball home for the second and well, Storey squeezed the ball in from a very tight angle when the keeper should really be looking to block. The penalty was not so much missed as superbly saved, Ramsbottom guessed right and got down low to his right to keep the ball out. 
The visitors got a wee lift from that and we experienced some forays into our box thereafter from whence they managed to grab a consolation through Sutton who stabbed home from six yards.
Sean Welsh was MotM and he is running away with the votes on CTO for this game. Nothing to complain about to be honest so that's a good thing all round.
Here's a great shot of our Czech Mates in action from Caleyjags.com
Great backing from our foreign fans who contributed immensely to the atmosphere in a sparsely populated North Stand but managed to get the locals involved in making some noise. Brilliant
Match reaction................
One of our Wyness Shufflers liked what he saw
Really impressive outing for the young lads. Harper looked like he had been playing LB for years and whilst I suspect Tremarco will regain his place it's good to know that we have a capable deputy there to come in. Hopefully Robbo starts to give Harper some more game time as this could well be Tremarco's last season as a player with us.

MacGregor was excellent. Seemed to be playing right midfield for a period in the first half but looked like he came in towards the centre in the second and Machado was a real live wire. Some of his crossing wasn't great but his movement off the ball is excellent. Both MacGregor and Machado were unlucky not to score. I think we've got some real players for the future in those three.
Great to see Welsh back as well. He and Trafford both performed well in central midfield and Storey looked lively on the right flank. Worth praising Donaldson and McHattie also. Donaldson had the cigars out for most of the game and McHattie again showed he's a capable back up at this level for us. Yes he's not the greatest defender but we're going to struggle to sell a back up slot to anyone of any real talent so he works well for us based on this.
Jaggernaut summed it up perfectly for me:
All in all, there were some really good performances. Welsh, Doran, Storey and Todorov stood out for me, and keeper MacKay's distribution was first class. Mchatttie and Donaldson were solid at the back and both full backs put in good shifts up and down the wing and some good crosses. I thought Trafford had a far better second half and MacGregor had some nice touches to link the play. Machado has great feet, and just needs to know when to lay the ball off to a player in a better position,  but I love his directness. 
As I said in a previous post, I think we now have the strongest squad we have had in quite a few seasons. In past seasons we have had a good first eleven and a bench that wasn't as strong, but now we have competition for all areas on the pitch. Good results can breed confidence, so lets hope we can take it into our next game at Dunfermline.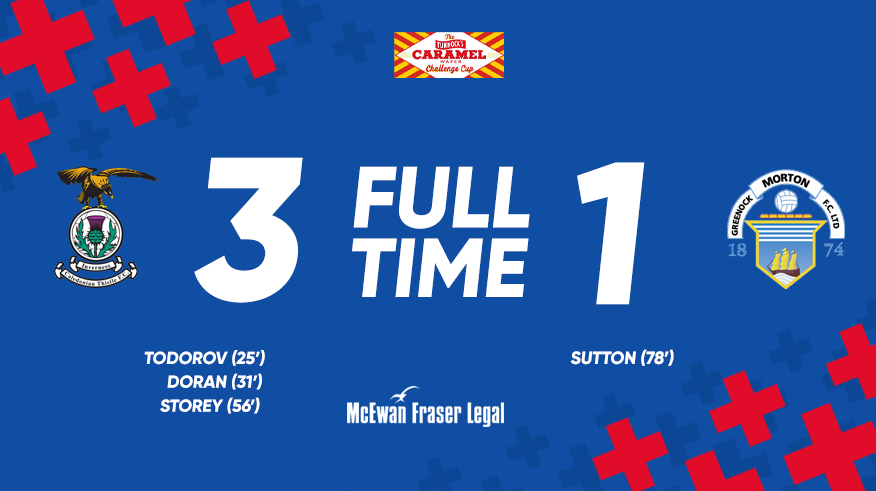 Here's the action from Caley Jags TV.............
Hot Toddy...............
And Scott was pleased.................
Dunfermline away next week, Saturday @3:00pm, East End Park.
---
a