Bonus point struggle
Inverness took the bonus point after a penalty shoot out, the game ending scoreless. Cammy Mackay saving twice as Todorov, Deas, Welsh and Allardice fired home from the spot.
It was the first game at home since the 10th March when we beat Queen of the South 3-1 on a stormy Tuesday night. Seven months later and football is back at the Caledonian Stadium on a Tuesday night. With fans being subject to covid19 restrictions, the stadium was empty and silence prevailed. Nothing new for home games I hear many say!
With live streaming not in place yet, it was left to standing on the Kessock Bridge or ICT FC Official twitter feed to keep us up to date with goings on at this League Cup group A game. One wonders why the streaming was such an issue for Inverness when practically every other side involved in the competition have managed to set something up. For goodness sake we even had a live feed for a friendly at Station Park Nairn. Here's the statement from ICT FC regarding Live Streaming. Maybe the twitter guys are locked out as well. Less than twenty minutes to kick-off and no team lines yet? Yippeee, they have arrived.
 Kevin McHattie and James Vincent returned to the starting XI with Cammy Mackay between the sticks. Shane Sutherland missed out through injury but Danny Devine made the bench.
Game on but it was nine minutes in before we carved out the first chance of the game when Storey was sent through on goal but keeper Ross Sinclair blocked his effort with his legs. Story would go off injured two minutes later to be replaced by Nikolay Todorov.
Daniel Mackay saw a shot gathered by Sinclair after twenty minutes. Five minutes later Sinclair was quick of his line to deny Mackay again.
Deas shot behind from a corner and a free kick from range was fired well over as Inverness kept on the front foot.
Cowdenbeath broke forward at pace, two on two but the low cross into the box bounced just behind Cox and the danger was mopped up.
Five minutes before the break and there's little to enthuse over, another long range effort sails over the bar and the whistle brings the first half to a close, thankfully. It's fair to say we are dominating the game, its also fair to say it's mostly uninspiring so far.
Half Time 0-0
The second period saw no changes as Toddy restarted the game and five minutes in we received a booking for simulation in the box. Dodgy if you ask me.
Oliver Hamilton saw a shot drag just wide with Cammy Mackay sprawling across his line ten minutes into the half and Toddy shot wide after good play by Dan Mackay.
Tremendous double diving save from the keeper to deny Sean Welsh and then Todorov, at the other end we mop up after Cox finds space in the box but is blocked.
Brad Mckay heads a James Keatings corner wide as the pressure on the visitors mounts and Roddy MacGregor is inches away from getting on the end of a Todorov cross after he picked the defenders pocket. A Keatings free kick is bundled away from the box as the visitors survive again.
Brad Mckay does well to stop a Cowdenbeath forage forward as they find space behind us. The Blue Brazil growing in confidence at our apparent lack of cutting edge and look to get forward more as the game enters the final phase.
Dan Mackay manages to get the ball past Sinclair but it's cleared off the line inside the last ten minutes but there were no further opportunities for either side and the game entered penalty kicks to see who gets the bonus point. 
Full Time 0-0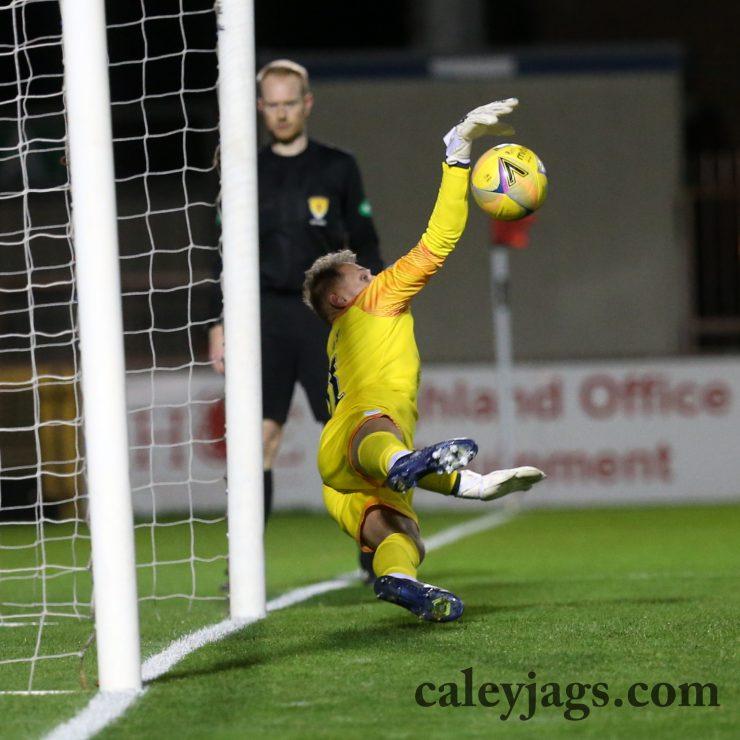 Penalties
ICT FC 4 Todorov, Deas, Welsh, Allardice
Cowdenbeath 2 Hamilton, Swann
Great work by Cammy and excellent finishes by the four scorers means that Inverness secure the bonus point. 
Hearts defeated Raith Rovers 3-1 with the aid of 2 penalties. However, they will need to go a long way yet to equal the shootout at Stranraer v Albion Rovers where a new record was set. Rovers eventually won 15-14. Wow! 
The only thing we know for sure is that the streaming works, pity about the display, but as Robbo keeps telling us, it's still pre-season!
***OFFICIAL MATCH REPORT FROM ICTFC***
Philosophical John.....
Heres the penalty shootout
---