Honest Men come North
It's heading towards Tam O' Shanter time as the Honest Men head North to tackle the Chapman Billies at the Caledonian Stadium in Inverness.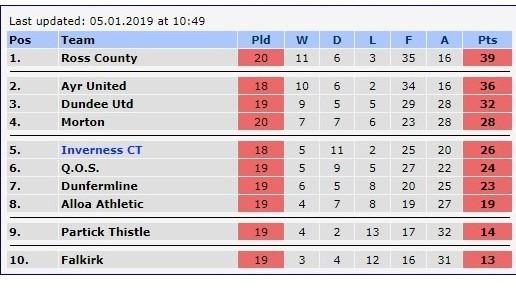 Ayr have been a revelation this term and a breath of fresh Ayr has certainly breathed some life into the Championship with Lawrance Shankland being one of the reasons they sit at the business end of the table. They sit second in the League only three points behind County.
Ayr thrashed Dundee United 5-0 at Tannadice at the end of November, but since then they have drawn three and lost last week against Falkirk. Top scorer Lawrance Shankland missed that one and looks like missing out again.
Our last two games have ended in defeat. We went down 2-1 in the Highland derby and threw away a lead against Queen of the South last week as two goals in a minute turned the game on it's head. It was a similar tale in the derby where we had the better of the game but ended up losing all three points, sums up the season so far. Due to a postponement at Somerset Park, we have only played Ayr once. That game ended goalless despite Ayr being reduced to ten men when Daniel Harvie was sent off in the first half.
Ayr have a plethora of possible call offs which could include Lawrance Shankland, Mark Kerr, and Liam Smith .  Andrew Geggan is back after suspension but midfielder Andrew Murdoch has reached the yellow card threshold and misses this game. Jamie Adams and Alan Forrest will definitely be out.
For Inverness, Shaun Rooney serves the second of his two match ban and Brad Mckay has to serve a one match ban for accumulated bookings. Rumours also abound that possibly as many as three unnamed players might be down with the flu. Kevin McHattie could be involved given that at least two of our first choice defenders are out. George Oakley is still sidelined. Back up keeper Daniel Hoban has been loaned out to Forfar Athletic for the remainder of the season. Keeper Cammy Mackay has returned from Rothes and will cover for Mark Ridgers when required.
Here's Kevin McHattie talking ahead of tomorrow's game.
The Official Digital Online Programme is available HERE
I asked the Bard for a prediction, he came up with this:- 
"The best laid schemes o' Mice an' Men, 
Gang aft agley.
An' lea'e us nought but grief an' pain, 
For promis'd joy!
In other words, it might not go to plan, which might annoy the fans................ Thanks Robbie.
Another draw it is then!
He also had some advice for Robbo:-
"O, wad some Power the giftie gie us
To see oursels as others see us!
It wad frae monie a blunder free us,
An' foolish notion."
Aye, well said Robbie, I'm sure our own Robbo will take that on board bard.
Enjoy yer haggis & neeps peeps.
If you like a wee flutter, our new partnership with FansBet can offer you something. Just click on FansBet to get started.  "Remember to select CaleyThistleOnline when you register and you'll be helping us support ICT fan causes."
FansBet are partners with Supporters Direct Scotland and already have many impressive stories of giving back to and empowering fans, ranging from funding away travel, share purchases, backing safe standing projects and many more. You can read some of FansBet's Giving Back stories on their blog at https://blog.fansbet.com/fansbet-giving-back/partners/fan/
Always remember to adopt safe gambling and responsible policies.