Cappielow, the final frontier.
Morton host Inverness this Saturday as we look to keep in touch at the top end of the table after last week's disappointing home draw against lowly Alloa. The Championship game at Cappielow kicks off at 3:00pm in one of the last few bastions of medieval stadiums left in Scotland. It has a wee Dublin end and a Cowshed and some old floodlights from Love Street. Olde and quaint, but delightful nonetheless.
Cappielow has been home to Greenock Morton since 1879 and has a present capacity of 11,589. That makes it the tenth largest football stadium in Scotland. The ground record was set in 1922 against Celtic when an alleged 25,000 were in attendance. That game was a league decider and it ended in a riot. Nothing new then!
Match report from The Scotsman, May 1st 1922

A late goal at Greenock saved the situation for Celtic, who found the Scottish cup holders lively company. It was a keen game in the first half, with Morton predominating, and the first goal scored, by Alf Brown, was well merited. Dodds and McNair were very shaky against a virile Greenock attack, and French and McNab were unlucky not to count. Celtic's left wing did good work, but their shooting did not seriously trouble Edwards, who was grandly supported by McIntyre and Wright. Morton continued aggressive in the second half, and looked like holding their lead, but Celtic came away near the close, and amid excitement McAtee obtained the equalising goal. The local club put up a great fight, and on the whole were the superior combination. The attendance was estimated at 20,000. Many of the Celtic supporters carried banners, and at half-time there was an ugly scene on the ground, free fights being engaged in. The playing pitch was invaded, flags were seized by the police, and a number of people were arrested. Happily order was quickly restored, and the match proceeded.
~~~~~~~~~~~~~~~~~~~~~~~~~~~~
The ICT Supporters Travel Club are running a bus to Cappielow
Book on their Facebook page HERE or on 07462218717
ADMISSION PRICES @ Cappielow
Adult: £20
Concessions (Over 65s, Students, 18-20 yrs): £15
Child (12-17): £10 Under 12s: £1
~~~~~~~~~~~~~~~~~~~~~~~~~~~~
Last week we were at our frustrating best as we threw away a great opportunity to top the division after a late Jordan White header looked to have sealed the points. However we undid all the hard work of getting ahead by giving the Wasps the chance to earn a point after uncertainty in defence saw Jamie McCart give away a needless throw-in. The ball found Alan Trouten unmarked to gain Alloa a point. They had taken the lead five minutes in after a tidy move saw Liam Buchanan execute an equally tidy finish. Carl Tremarco scored a stunning contender as he fired an angled shot off the bar to square matters. Overall, it was a disappointing result given every other result could not have been hand picked better.
Tremarcoooooooo! Oh yessss, what a goal Tommy!
Table prior to Ayr v Dundee game..........................................Other Championship games this weekend:-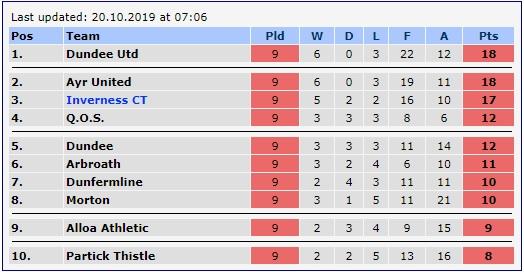 Ayr United 1-2 Dundee (Friday)
Alloa Athletic v Queen of the South
Dundee United v Dunfermline
Morton v Inverness CT
Partick Thistle v Arbroath

James Keatings returned to action last week with a 15 minute substitute appearance. He smacked the bar in injury time with a curling and dipping free kick and we will need his creativity to break down any resistance. Mitch Curry also made his league reappearance after 11 weeks out and Brad Mckay returned to sit on the bench. The pleasing aspect of having injured players return is tempered by the fact that Sean Welsh is out long term and Tom Walsh and Nikolay Todorov have missed the last few games.

Robbo has no new injury surprises for us as we look to get back on track, Sean Welsh the only casualty left. It has been reported that Tom Walsh and Nikolay Todorov are also back in full training so expect these returnees to be introduced as required over the next few games. Coll Donaldson and Jamie McCart need to reacquaint themselves with solid defending, correct decision making and get fully focused on the job in hand. Properties that we all know they posses but need to display every week. James Vincent should discard his sideways pills and start creating for the front men and Miles Storey should concentrate on his visible talents, pace and power. If we can also get Aaron Doran to be more direct then we could be a force to be reckoned with and the strikers will benefit from some decent service instead of working off scraps. The return of James Keatings could be the spark needed to ignite the strikers.
No reports of any more injuries at Morton. Look out for Bob McHugh. The former Motherwell and Falkirk player is top scorer and has netted six times this season.
Officials for tomorrows game:-
Referee: Euan Anderson
Assistant one: Stuart Stevenson
Assistant two: Ryan Kennedy
~~~~~~~~~~~~~~~~~~~~~~~
I was saddened to learn of the passing of John Fleming this week. I knew John personally through his work at BT and as an aside he would be a referee in his spare time. John went on to become SFA head of refereeing operations.  Here's a fitting tribute to the referee and the dedicated family man. RIP John.
~~~~~~~~~~~~~~~~~~~~~~~
Brad's back.....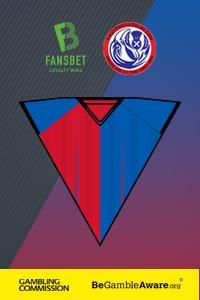 If you like a wee flutter, our partnership with FansBet can offer you something. Just click on FansBet to get started.  "Remember to select CaleyThistleOnline when you register and you'll be helping us support ICT fan causes."
FansBet are partners with Supporters Direct Scotland and already have many impressive stories of giving back to and empowering fans, ranging from funding away travel, share purchases, backing safe standing projects and many more. You can read some of FansBet's Giving Back stories on their blog at https://blog.fansbet.com/fansbet-giving-back/partners/fan/
Always remember to adopt safe gambling and responsible policies.