Firhill for thrills.....
This Saturday it's the battle of the Jags as Caley Thistle face Partick Thistle, second top versus second bottom with Firhill the venue, 15:00 the time. First time round this season it was the Partick Jags that came out on top in the Highlands but Inverness have put together a tidy wee run of three to bounce back to second in the table whilst the Firhill men are struggling to get away from the bottom end. All to play for on Saturday with a crucial three points for either team available.
~~~~~~~~~~~~~~~~~~~~~~~~~
Ticket Info
Adults: £20, Under 16s: £5
Concessions: (Over 65s*, students, disabled supporter including carer, 16-18 year olds) £15
Tickets available from Firhill on the day of the match.
Cash gates will be available at turnstiles 40&41 and located in the Jackie Husband Stand.
~~~~~~~~~~~~~~~~~~~~~~~~~
The new manager bounce is long gone for the Maryhill Magyars, but when Ian McCall had his first game back in charge they were whipped 5-0 by Celtic in the League Cup. However, move forward three days to the Caledonian Stadium and the team with the greater desire on that day ran out comfortable winners as Inverness shot themselves in the foot......twice. It ended 3-1 to Patrick with Inverness the architects of their own downfall. Dario Zanatta opened the scoring early but Jordan White levelled ten minutes later. Kenny Miller benefited from some poor defensive play just after the break to put Patrick back in front and a late goal from Cammy Palmer secured the points.

However since beating Inverness on the 28th of September, Partick have struggled to put a run together and still find themselves second bottom of the League with some indifferent performances. Three wins, five defeats and a draw plus 2 wins in the Chocolate cup and a narrow defeat of Penicuik Athletic in the Scottish Cup are the stats. A couple of really low points in that run were the 4-1 humbling from McCalls old team, get it right up ya, and an absolute 5-1 humping from Dunfermline with a 4th minute red card thrown in for good measure for Tam O'Ware.
Speaking to BBC Sport after the Pars mauling, Ian McCall said: "We were very confident to come here and win but after four minutes everything changes. I think everybody was in shock, it's inexcusable."We didn't give ourselves an opportunity to win it and it was too easy for Dunfermline. I felt for the fans because it was a non-contest."
Their last outing saw them come from behind to beat the inconsistent Queen of the South 2-1. Joe Cardle had pulled Thistle level after Connor Murray opened the scoring for Queens and a late Reece Cole goal nicked the points for McCall's men. How festive, goal king Cole! He's a merry olde soul apparently.

Inverness are on a three game winning streak in the Championship, the latest win was a merited 2-0 victory over Ayr United in the Highlands. Superb strikes from Jordan White and a rejuvenated Miles Storey were enough to see off McCalls old side. Previous victories over Alloa and Dundee took us out of the doldrums with a virus possibly partly responsible for defeats by Arbroath and Dundee United.  Not so much the fact that we were losing, but the lethargy was palpable.
With all the catch up games played in midweek, the table now looks like this after 16 games.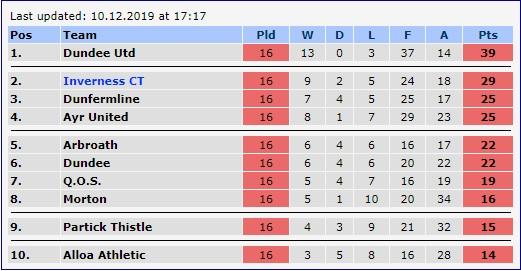 Arbroath v Dundee United
Ayr United v Alloa Athletic
Dundee v Dunfermline
Morton v Queen of the South
Partick Thistle v Inverness CT
Immortal Howden Ender will be Previewing and Reporting on this game for us..........
The Magic Hat derby
What is happening? Four clean sheets on the trot – Challenge Cup Semi Final, three vital wins, nine points taking us to second in the league. And there is more – Positive posts galore on CTO and not just the Happy Clappers. Are we going to have a very Merry Christmas or is the bauble going to shatter. Let's enjoy our trip to Maryhill, let's take something from the on-form Pars, enjoy Xmas and then gain revenge against the Smokies and enjoy a New Year that we surely could not have envisaged as the dark days of Winter brought initial gloom and doom to Inversneckie.
But as the old adage goes "Let's take one game at a time" so it is off to see the Hipsters of the West End of Glasgow. The Plastic Thistle are more unpredictable than us !! They get hammered by the Pars and then they turn up and turn over the Doonhamers in Dumfries. The one thing that you have to be envious of is the presence of a "Sugar Daddy" in the form of Lottery Winner – Colin Weir. He is the major shareholder, has a holding in the land at Firhill, is going to hand over "ownership" to a Fan Group by April 2020 and is funding a new Youth Academy. But Mr. Weir does not appear to be widely backed by the Magyar diehards and I don't think that the potential of Jacqui Low and Alan Rough taking control is being heralded. It looks like they are putting a lot of faith in Kakay, Zanatta and Cole but are bemoaning a pedestrian back four which should be good news for us. Weir and McCall will need to dive into the transfer market and may well do in the New Year sales so we need to ensure that we take those three points back with us this weekend.
Revenge is needed for the Ian McCall "first game back" defeat at Sneck in late September. That was well and truly three points chucked away and a performance only just worse than the Gayfield gutting. History would suggest that we usually take something away from Firhill and we don't give away many goals either. Let's hope that there is a 17-point gap between us come Saturday night. Robbo recently echoed the Seer recently and let's hope it is an end of 2019 prophecy – John Robertson says Caley Thistle's ability to string a run of wins together will decide if they are good enough to challenge for the Championship title. "Our problem this season is that we have not put a run together. If you look at Dundee United and Ayr they have managed to put five straight victories together. That is something that we need to do to get ourselves back in there. But I said to the lads find a way to keep winning games, pushing up the table and see where that takes us."
As for our starting 11 – well it is simply a case of "Same Again Please. To me that is not surprising given our injury list but I am surprised, albeit delighted, that our back five appear to have got back their mean defending after a leaky spell – Carson and Trafford have blended and are bossing the midfield – Keatings has returned to form and White has also shown signs of improvement and hopefully will be adding to his goal tally before 2020 as well. But the player who may well shine on Saturday is Miles Storey. The last time that I was in Maryhill we were giving him pelters – so lets hope that this time it will be adulation and applause. This is only my third away day this season, following Ayr and Alloa. Lets hope that it will bring about a hat-trick - another entertaining match and a 2-0 victory. And if we don't I will eat his Magic Hat.
Team News
Sean Welsh is still out but recovering well from his broken foot. Carl Tremarco was injured last week and is a doubt. Kevin McHattie will be a ready made replacement should Tremarco not make it. Tom Walsh has missed the last few games with a hamstring problem and misses out along with James Vincent and Brad Mckay.
***Latest News***
Inverness u18 players Millar Gamble and Lewis Nicolson have been called up to the Scottish Schools FA Under 18 Centenary Shield Squad. Both players attend Culloden Academy. Congratulations to them both.