Morton -V- Inverness CT - Report
---
Pipped at the Post
Inverness just failed to get into the play-offs despite beating Morton 3-0 at Cappielow. A brace by top scorer George Oakley and another by Nathan Austin won the points but as expected, Dunfermline thumped Dumbarton to take the final spot. 
Prior to kick-off we needed a massive helping hand from Dumbarton who we required to beat Dunfermline. That seemed unlikely, but we had to go about our business in the hope that miracles do happen.
For Morton, Darren Hynes won his first start with midfielder Ben Eardley getting a place on the bench. John Baird was unavailable due to parent club ruling. Gary Harkins captained the side today with Thomas O'Ware out. Scott Tiffoney and Jack Iredale also miss out.
Inverness were without the injured Gary Warren with Iain Vigurs taking the captains armband. Aaron Doran missed out altogether and Nathan Austin started.
Before kick off, the news that Dumbarton were fielding a less than first XI meant that our task was doomed before we started. 

The game kicked off at Cappielow and more ominous news coming from East End Park via twitter: 11sec Pars have kicked off towards the away stand and Clark has the first shot of the match but it's wide left of goal........... It got worse when the Sons were reduced to ten men and Dunfermline opened the scoring.
However, undaunted we went about our business and Oakley scored twice in the first half.................

Just over 1500 were at Cappielow to enjoy the game. The away fans would enjoy it better. No doubt the home fans were a bit subdued with news that Chairman of 17 years, Douglas Rae OBE will be standing down after this game. His son Crawford will take over.
Inverness were first up to try their hand with a Joe Chalmers free kick quickly followed by a Liam Polworth shot from distance, both attempts missing the target.
The visitors were enjoying the lions share of play and after eighteen minutes Iain Vigurs hit the bar from close range. Nathan Austin and Carl Tremarco were next to have a go without scoring but in the twentieth minute George Oakley did just that. He opened the scoring after a Polworth corner found him unmarked and George knocked in his eleventh goal of the season.
Five minutes later and he could have added a second when he met a Chalmers cross but he headed over. A warning from Morton a couple of minutes later as Gary Fraser is set up on the edge of the box by Oliver but his shot goes just wide.
However, Inverness' overall dominance would pay off and Oakley bagged another eight minutes before the break after being played in on the right and he squeezed his shot behind Brennan in goal from a tight angle. Inverness cruising, but unfortunately so were Dunfermline.
A couple of minutes before the break and Vigurs hit the bar a second time direct from a free kick.
There was still time for Mark Ridgers to get some action, saving a Fraser shot and at the other end Oakley shot over looking for his hat-trick.
Half Time 0-2.............. At East End Park it was 3-0 for Dunfermline
Ridgers kept his goal intact with a stunning save to deny Gary Harkins from a free kick, managing to get the ball onto the woodwork.
The game had opened out now as Morton looked to salvage some pride but it was Inverness that stretched their lead when Nathan Austin scored after gathering his own attempt and knocked home the rebound. Polworth had done the spadework with a lovely chip over the defence to allow Austin the opportunity.
Oakley fired over just after the hour as the visitors went looking for more and Tremarco went close with a header that went just wide.
Young Player of the Year Coll Donaldson went off injured with fifteen to go with Riccardo Calder replacing him.
A late flurry of activity as Morton looked for a consolation but it was at the other end that a goal almost materialised when Polworth shot across the keeper was saved with five minutes left. Substitute Zak Elbouzedi should have added a fourth in the final minutes but he shot wide after being set through by Bell.
Full Time 0-3..........Dream Over............Dunfermline win 4-0.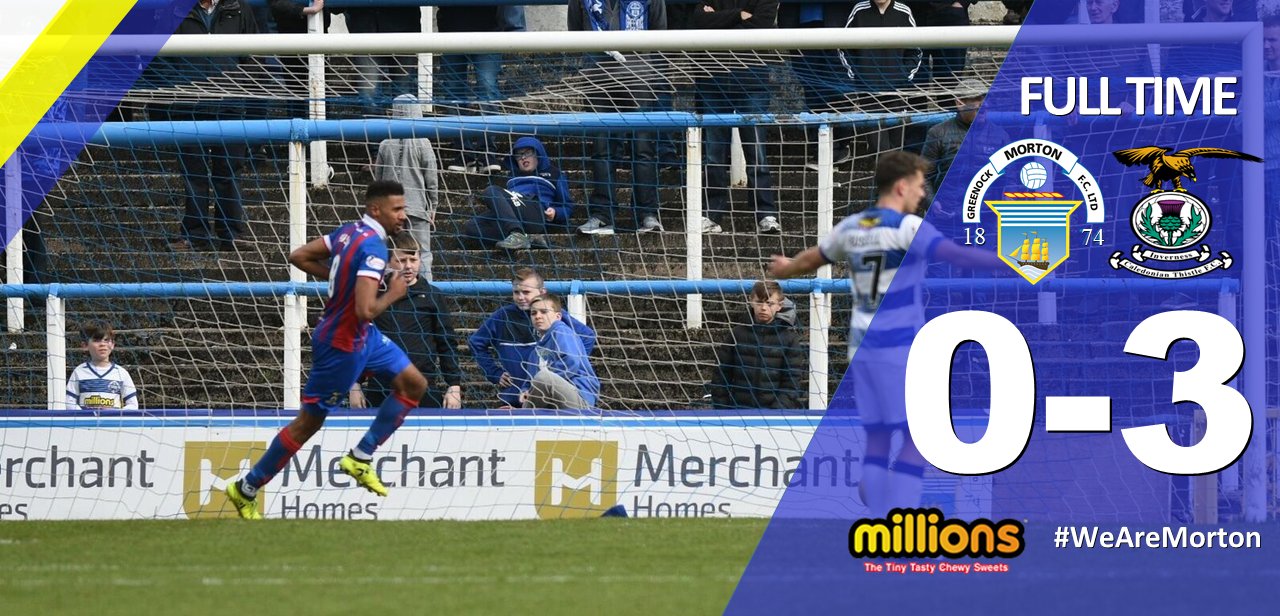 So that was it. A tremendous 12 game unbeaten run to end the season which just fails to gain us a play-off place with Dunfermline pipping us. How important was that 95th minute goal by Nicky Clark last week. Absolute sickener if you ask me. We were men on a mission and almost pulled off the impossible. Well done to the squad and management for keeping the season going to the final game (for us).
Player of the Year Iain Vigurs was a standout 
George Oakley said it all in this tweet: Great result today winning 3-0 and happy to score 2, so unlucky not to make the play offs! But the lads have been excellent 12 games unbeaten and the fans have been superb all year stuck behind us till the end. Happy to be top goal scorer this year! Next years the one! 
Caley Stan summed up the feelings of the fans: 
Robbo and the players deserved a show of appreciation for the effort and that's what we gave them. No celebrations, just a big loud display of support. 
I know Morton weren't really playing, but we were just brimming with confidence throughout the team, pounding them for the first half hour and playing some great football at times. Seedorf, Chalmers, Oakley, Trafford and McKay are all players i've had my doubts about at times this season, but they all had excellent games which tells us how well the team is working as a unit. 
This run might not have seen us into the play-offs, but it allows us to go into next season with a positive feeling, something that seemed unimaginable just 5 weeks ago. 
Video footage will be added if/when it becomes available.
As they say on Looney Tunes, that's all folks!
---
a
---