Wasps Sting Themselves...
Inverness moved up to second in the table after a 2-0 win over ten man Alloa who had Liam Dick sent off just before the hour. Both goals were scored in the first half with Scott Taggart heading behind his own keeper and Aaron Doran brilliantly volleying home the second from a Jordan White knock down as the half closed. With Dundee United and Ayr United frozen out, we moved into second spot for now and moved a further two points away from Dundee who lost at home to Queen of the South in a dramatic late ending to that game.
There were two games called off for frozen pitches.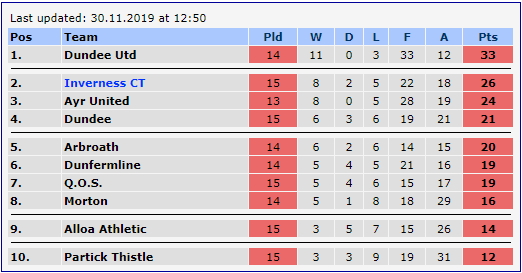 Ayr United -P- Arbroath
Morton -P- Dundee United
Alloa Athletic 0-2 Inverness CT
Dundee 1-2 Queen of the South
Dunfermline 5-1 Partick Thistle
Immortal Howden Ender has this report for us...........
 Well at least I am enjoying my Away Days this season. Ayr and Alloa have been good choices. And here I was travelling up in minus temperatures, blue skies and sunshine. And then Radio Scotland announces that two Championship games have been called off. I forgot that the wasps nest is now of the 4G variety. And good to see a fair smattering of the old brigade in a 100+ following. Relaxed train journey with Mantis, into Bobbin John's with the McDonalds - Lynn and Ronald - only to be called to Drysdale's and participation in a PeaPod cast or something like that. And then a late arrival at the Rec but an enjoyable 45 minutes followed by a tolerable second 45.
I would have to say that I was impressed by Alloa. Unfortunately their penchant to play football and dispense with the hoof was admirable but may also be their downfall. I don't think that the most staunch of us would have begrudged them a point at the end. The first half made good watching and both teams carved out chances. We also dispensed with the hoof, played football and used the extra wide flanks. I thought that Rooney was exceptional in that half. Ridgers had made a couple of saves, we had wasted at least two half chances before Inspector Taggart became Inspector Clousseau and headed the ball past the man who won us the Scottish Cup. And the eventual match winner came right on the half time whistle. A Rooney cross, exquisite head back by White and Doran curves neatly passed poor old Rod. As good a goal as you will see all season.
Half Time 0-2
And then you would have thought that a complete Dick had opened the flood gates with a double footed, red card, over the top tackle on Keatings. But, we appeared to relax and wait for another opportunity. And a few came along but we fluffed the final touch. I felt that we tried to overpass at times. We should have gone nap really. But Alloa improved with 10 men. As is often the case we looked like the team with ten. When an Alloa shot hit the postage stamp corner there was a shiver, not caused by the minus temperature. But we held on and returned to Drysdale's a happy bunch.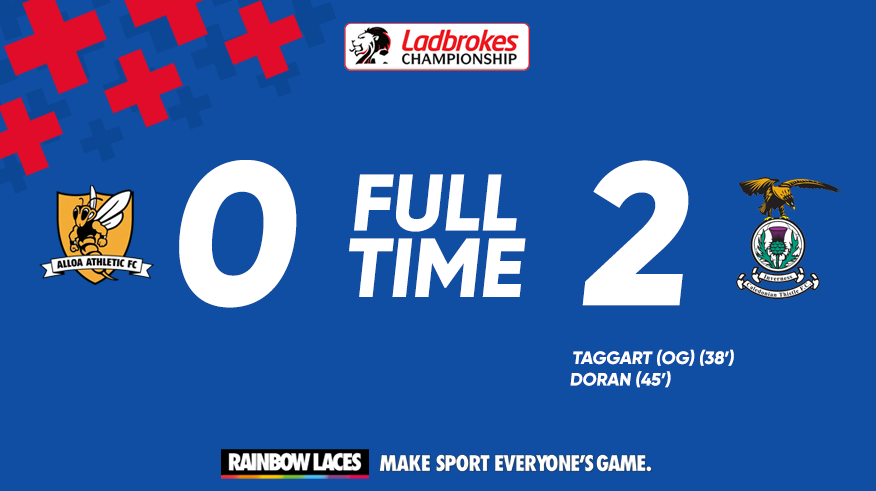 I will dispense with the smileys but my marks out of 5 are made up of 3's and 4's. Ridgers, Rooney, Coll, Tremarco, Carson and Keatings get the fours. I may also add Roddy McGregor to that list as his pace and movement was terrific when he came on. Carson sneaks in as my MotM - mainly for his defensive display and a developing partnership with Triffid. Let's hope that McCart has only a minor knock. My only other whinge, apart from not scoring more goals was WHY take on Curry if he is on his way out?
So Aloha to Clackmannanshire and I may well be back. Have to save up for the Maryhill Caley Away Xmas party ?
From BBC Sport
Alloa Athletic manager Peter Grant: "The scoreline was very harsh on us. To lose the goals when we did was a double-whammy.
"But I was chuffed with the way the players went about their business. Even when we went down to 10 men we were excellent."
Inverness CT manager John Robertson: "Both teams carved out really good opportunities. The first goal was really strange, the second was a cracker.
"There were more goals if they showed the quality of the final pass, and that's what let us down second-half. We didn't make the extra man count."
Extended highlights from Alloa Athletic FC
---
a